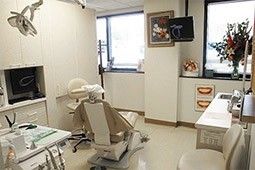 At King Centre Dental, our patients are our number one priority. Our entire staff is committed to providing excellent dental care in a comfortable environment, so patients can feel relaxed and stress-free. Sometimes going to the dentist can be a stressful process. The best way to prepare for a dental appointment is by knowing what to expect during your first appointment, as well has having patient forms and paperwork ready.
Your First Appointment with Us
Meeting a new dentist can be nerve-racking, especially if you suffer with the common condition known as dental phobia. We do our utmost to eliminate any stress and make your experience with us as relaxed as possible.
At King Centre Dental, we pride ourselves in getting to know our patients' need and working with them to provide the highest quality dental care. Before your initial consultation with us, you will be asked to provide a completed copy of our new patient form, which can you find on this page. This saves time during your first visit to us and means our team has the opportunity to understand your medical history, before you even set foot through the door.

What to Expect During Your Consultation
During your initial consultation, you will have images taken of your teeth. These may be digital images or x-rays. Having an initial view of the inside of your mouth is useful for illustrating treatment options and making a 'base point." This way, we know where to look at the progress of your oral care with us. Then, we can discuss what treatment possibilities are open to you, and answer any questions you have about your oral health or our available treatments.
---
Payment Plans
Optimal oral health is important, not just for eating and speaking, but for your overall confidence and long-term wellbeing. Failing to seek the right treatment for dental or oral problems can cause significant trouble and costly treatments later in life. At the same time, we understand that paying for your dental care isn't always straightforward and can be costly.
We will always be open with you about your treatment costs and will discuss financing with you, before beginning any step of your dental care plan with us. For your convenience, we accept
CareCredit
and
LendingClub
for patient financing options, as well as allow cash and credit card payments.
Contact Us
We are happy to hear from you, answer your questions, and schedule an appointment. Call King Centre Dental at 703-719-9824 or stop by our office.

5695 King Centre Dr Ste B #100
Alexandria, VA 22315







New Patients
We are always happy to see new patients and getting started at King Centre Dental couldn't be easier. Simply make an appointment for your initial examination by calling 703-743-7629 and speaking with one of our team.
You can also download new patient forms below, which you can complete at your convenience and send to our office via fax or email, or bring to your first appointment.